Genesis
Brand:
Titan Kayaks
Product Code:
Genesis
Reward Points:
0
Availability:
In Stock
Price:
$1,750.00
Ex Tax: $1,521.74
The Genesis Series is faster, more forgiving and lets you push your paddling to the next level.
Whether you're a beginner jumping in your first freestyle kayak or a pro searching for that next big trick the Genesis will help you get there.
Mixing forgiving edges with rails that still carve and give a crisp release. Secondary rails in the nose and tail to let you ride your edge right up until the peak of your bounce. Short and loose for effortless spins and faster rotation from end to end.
Centralized volume for huge loops and balanced cartwheels. Whether your in a hole or on a wave the Genesis has you covered.
The theme behind this boat during it's design was to create a boat that would be forgiving and responsive at the same time. A boat that would make learning to paddle or learning a new move easier by not simply being forgiving, but by letting you feel how your boat is reacting in the water at the same time.
The idea was to bring back the connection between the paddler and the water to in the end give a far more satisfying paddling experience.
Related Products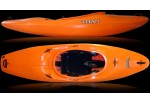 $1,850.01
Add to Cart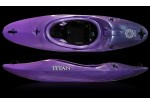 $1,850.01
Add to Cart