Exile
Brand:
Titan Kayaks
Product Code:
Exile
Reward Points:
0
Availability:
In Stock
Price:
$1,850.01
Ex Tax: $1,608.70
The Exile is Titan Kayaks long awaited creek boat.
From extended expeditions to the steepest of creeks the Exile has been designed to do it all.
It's continuous rocker leading to the rear, combined with a displacement hull nose that blends to soft chines running down the tail make the Exile not only wickedly fast but also very forgiving while still holding a rail and being extremely responsive.
The Exile turns on a dime, and boofs with effortlessly ease. It's unique upturned nose has been designed to not only shed water downwards but to also push it back and around the boat helping to propel the boat through holes and to re-surface not only upward but also with forward speed.
Large rear access to the tail allows you to easily pack and stow gear in the rear, while the front bulk head which features 3inchs of cushioning foam is also easily removed for packing gear into the front of the boat.
Equipped with 5 safety bars the soft webbing handles on either end are easy on the hands while the safety bars featured under each of them give paddlers the option to either clip into the handles or clip into the metal safety bars.
- Extra webbing handles are included with each boat so that paddlers can retrofit all their safety bars with soft handles if they choose.
Related Products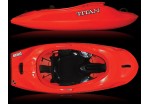 $1,750.00
Add to Cart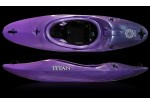 $1,850.01
Add to Cart